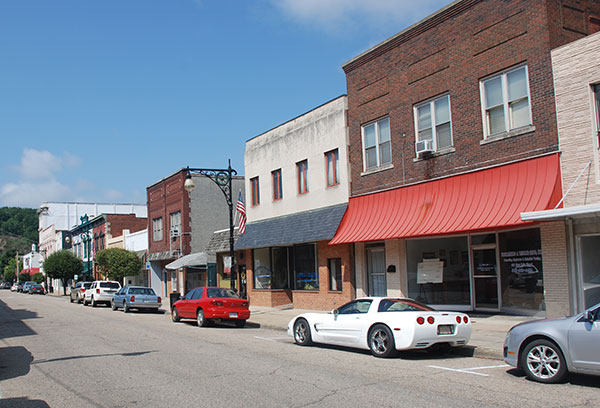 ---
Covington Virginia
"Alleghany Highlands"
---
---

Town of Covington VA
Covington a city of 6 square miles located in southwest Virginia off Exits 14/16 on Interstate 64 , and also the county seat in Alleghany County. The city of Covington VA is located at the confluence of the Jackson River and Dunlap Creek. Covington Virginia is a unique mountain town in the Alleghany Highlands forming a spectacular natural playground for hiking, biking, camping and hunting, fishing, paddling, tubing, boating or swimming on rivers, lakes and streams. The downtown area is filled with eclectic shopping, locally-owned restaurants, art galleries and historic sites. The Alleghany Highlands of Virginia offers visitors more than sights to see. Here you can step away from the hustle and bustle of a hectic life and step into our world where we embrace our rich heritage, celebrate the arts and have a passion for our beautiful outdoors.
---

History of Covington VA
Covington Virginia is named in honor of General Leonard Covington, hero of the war of 1812 and friend of James Madison and Thomas Jefferson, the City has a rich history and heritage in the region. Covington's economy is dominated by MeadWestvaco, which has been operating in the city since 1890. The facility employs about 1300 workers, mostly from Covington and Alleghany County. Its production includes bleached paper and paperboard for packaging, and is the second largest on the East Coast. The city and the region is well-known for its exceptional outdoor recreation, including the best mountain biking in Virginia and world-class fly fishing. You may be surprised to learn about some of the other unique offerings in the area.
---

Falling Springs
Just north of Covington, VA is the 80 foot scenic waterfall and the Falling Spring Overlook is located on Route 220 in Alleghany County, just five miles north of Covington, Virginia.  The property has had extensive renovations to the overlook and grounds so that visitors can more safely stop and enjoy the view, making it one of the most visited spots in the Alleghany Highlands.  The water from the falls flows into the Jackson River at the popular gathering spot of Camp Kyle on land owned by the R. W. Kyle family in the beautiful Falling Spring Valley.
---

Humpback Bridge
If you are visiting the Allegheny Highlands in Virginia its not complete without a photo or a visit to the popular and most photographed structure in the area, the Humpback Bridge. The bridge spans a tributary of the Jackson River known as Dunlap Creek. The center of the floor and roof are four feet higher than the ends, which explains the name of why they call it the Humpback Bridge. It's the only bridge of its design in the United States. Built in 1857, Humpback Bridge is now listed in the National Register for Historic Places. The Humpback Bridge is surrounded by a 5-acre wayside park.
---
C & O Depot
Douthat State Park
Alleghany Highlands Blueway
Alleghany Highlands Trails
---
---