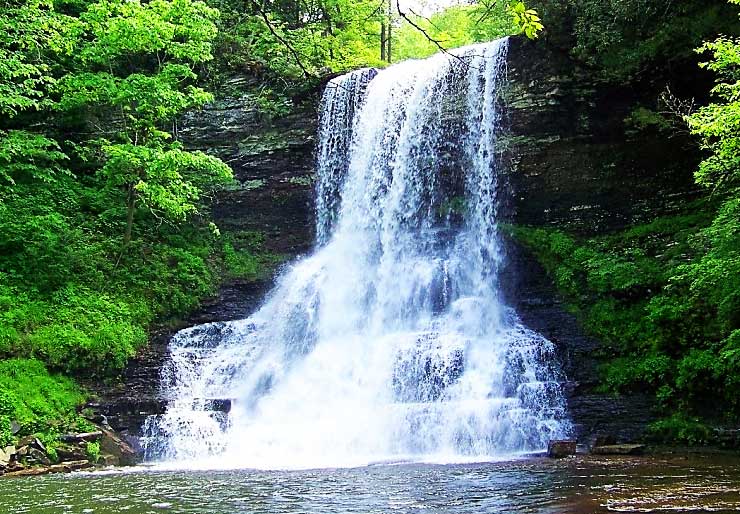 ---
Pembroke Virginia
"Gateway To The Cascades"
---
---
Town of Pembroke VA
The town of Pembroke is located in Giles County in the Virginia Blue Ridge Mountains. Pembroke is known as the "Gateway to the Cascades". The Cascades waterfall is a 66 foot naturally occurring waterfall with an approximate 4 mile round trip hiking trail. The hike is highly scenic with low to moderate difficulty. There is a Picnic area at the beginning of the trail and a water hydrant for filling water bottles available in the recreation area along with restrooms.
Pembroke is an outdoor adventure with has access to the New River along with numerous outdoor adventures such as nature walks, treasure island, boating, tubing, kayaking, canoeing, excellent fly fishing, hunting, camping, olympic-sized swimming pool, golfing, tree top adventure zip-lines, the tallest inflatable water slide in the world, zorb ball racing course, bubble body ball, soft point archery tag, bird watching, pick your own apple orchard and many other activities.
Pembroke is also home to Mountain Lake Lodge which is best known for the film Dirty Dancing. Pembroke is also known for its annual Festivals such as the Heritage festival, Ruritan Fish Fry, and Christmas Parade.
---
History of Pembroke VA
The first white settler to what is now Pembroke, VA was Philip Lybrook. Lybrook and his family travel from Pennsylvania to Pembroke sometime between 1748 and 1755. His family was originally from Holland, where the name was said to be spelled Leibroch. This family settled at a point along the New River where Sinking Creek flows into the river. In 1765 John Snidow, his wife, and eight children started from Pennsylvania to settle near their friend Philip Lybrook. It was thought that John had paid a visit to Philip earlier, had liked what he saw, and had gotten a grant of land in the area that is now Pembroke. And so with his wife, Elizabeth Helm Snidow, sons Philip, Christian, John, Theophilus, and Jacob, daughters Barbara and two small girls started south to settle on his tract of land. Much of this original grant is still in the possession of the Snidow's who are the descendants of Philip and Elizabeth Snidow.
Other early settlers were the Chapman's, the Johnston's, and the Burkes. The story goes that in 1845 the town was named by John Lyebrook, a descendant of Philip. John, at that time, was postmaster and he had been reading a book in which he ran across the name Pembroke.
The town of Pembroke was officially incorporated in 1948. The first mayor was Capt. T. P. Smith. The town hall that we know today was finished in 1968. The town is now home to a Volunteer Fire Department and a Police Department in which we are very proud of. Pembroke is governed by five councilmen and a mayor who are all elected for four year terms.
---
---