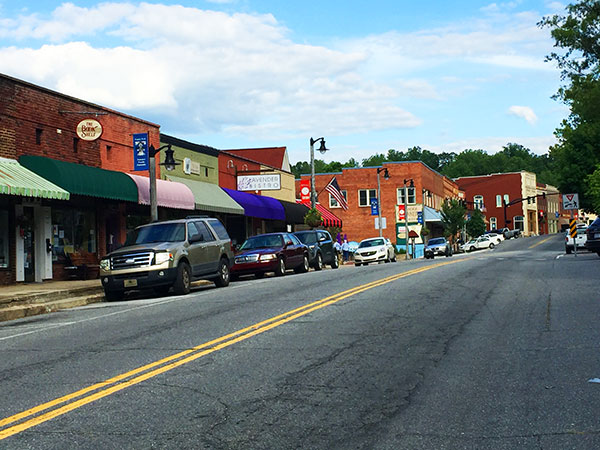 ---
Tryon North Carolina
"Small Town…Deep Roots"
---
---

Town of Tryon North Carolina
Tryon North Carolina is the largest town on the Western North Carolina Blue Ridge; located on the 'First Peak of the Blue Ridge'. The village began as a thriving artisan village with a strong equestrian tradition that remains today. Tyron has developed a national reputation in the tourism industry. The town was frequented by authors F. Scott Fitzgerald and Ernest Hemingway.
Tryon offers outdoor recreation with waterfalls and hiking trails. Visit the local history collection at the Polk County Historical Association Museum, that is filled with many rare and historical artifacts. Tryon has many antique shops that feature a range of American and European collectibles. In town, there are artisan crafts, and theatre and music that play a part of the culture of Tryon. The Blue Ridge Parkway is a nearby attraction, along with the Biltmore House & Garden. The town is also home to a variety of restaurants, bars and wineries.
---

History of Tryon, NC
Tryon was granted a charter from the State Legislature in 1885 and was later incorporated into Polk County. The City of Tryon was named for the Tryon Mountain. Located almost on the South Carolina border, the town was developed here because construction of the railroad to Asheville stopped here for nearly two years.
The town became popular with tourist and has seen its fair share for celebrities. In earlier years it was the training ground of the US Olympic equestrian teams. It is also the birthplace of Nina Simone, a destination point for First Ladies Harding, Coolidge and Roosevelt and inspiration for parts of the (General George) Marshall Plan. The town was also frequented by Maurice "Lefty" Flynn, David Niven, the Fitzgeralds, Lady Astor and much more.
---
Tryon Riding & Hunt Club
The Tryon Riding & Hunt Club puts on several events every year, best known being the Block House Steeplechase in April and the Tryon Horse Show in May. Primary aim of the Club is to promote horsemanship of all kinds in the area, and to that end the TR&HC sponsors many junior events.
---

Foothills Equestrian Nature Center
Foothills Equestrian Nature Center is the site of the TR&HC Spring Steeplechase and many other equestrian events, and is home to the Carolina Carriage Club. A unique facility, which has miles of wooded hiking and walking trails, FENCE also offers educational programs for area schools as well as adult classes in bird watching, wildflowers and nature subjects. The organization also offers expeditions to other parts of the Carolinas.
---
---