---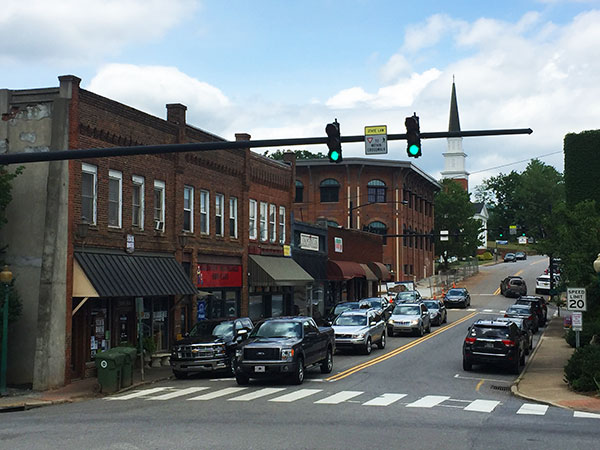 ---
Mars Hill North Carolina
"Where Knowledge and Music Thrive"
---
---
Town of Mars Hill North Carolina
The town of Mars Hill was built around the educational institution which was to become Mars Hill University. When walking down Main Street you can feel the influence that still permeates the small downtown area. Owen Theatre on the university campus is the home of the Southern Appalachian Repertory Theatre which draws theatergoers from the surrounding area. The town has a rich music history as it was the birthplace of Bascom Lamar Lunsford, the "Minstrel of the Appalachians." And, just a short distance from the town and a long distance in elevation, is a ski area for winter outdoor pleasure. The college community of Mars Hill is known for its artistic heritage and cultural treasures such as the Southern Appalachian REpertory Theatre, the Rural Life Museum and the music and arts and crafts festivals hosted by Mars Hill College
---
History of Mars Hill NC
Located at the southern portion of Madison County, Mars hill was founded in 1893 and was linked to Mars Hill College. The town was formerly call Pleasant Hill and was settled by ten major families that moved in from Tennessee.
The families were sending their children to Yancey County to attend the Burnsville Academy. The school was and practiced Methodist faith in their teachings. Edward Carter one of the families parents decided to ope n the French Broad Baptist Institute later to become Mars Hill College. Once the school was built more families came to the area and the town grew needing teachers, students, and business men.
During the Civil War, Mars Hill was a strategic location, a crossroads for north-south and east-west travel. A hundred-man detachment of the 64th North Carolina Infantry called Keith's Detail- was the first of several Confederate units posted in Mars Hill throughout the war. The last two years of the war the college was closed. In 1865 union troops raided Mars Hill and burned the college dormitory and teachers residence. The college survived, but it took forty years to replace what had been destroyed.
Today Mars Hill is a self-sufficient community. It hosts a variety of churches, restaurants, businesses, numerous medical services, schools, recreation facilities, and more. It is located on busy Interstate 26 with rapid access to Asheville and the southeast region bringing retirees, new residents, and tourists to the mountains seeking a more hospitable environment and life style.
---

Mars Hill College
Mars Hills College is  very modern looking when driving through the town but is rich in history. Mars Hill College built in 1856, and in 1962 became a university. The college remains true to its tradition of service, learning and leadership.  Mars Hill enrolls 1300 students in its day and evening classes and offers 31 majors through its three schools. Mars Hill College was founded as the French Broad Baptist Institute in Madison County in 1856 with land donated by Edward Carter (whose house is now the Asheville Savings Bank at 105 N. Main Street). Stop in at the Rural Life Museum on the Mars Hill College campus or take in a play at the Southern Appalachian Repertory Theatre.

---
---