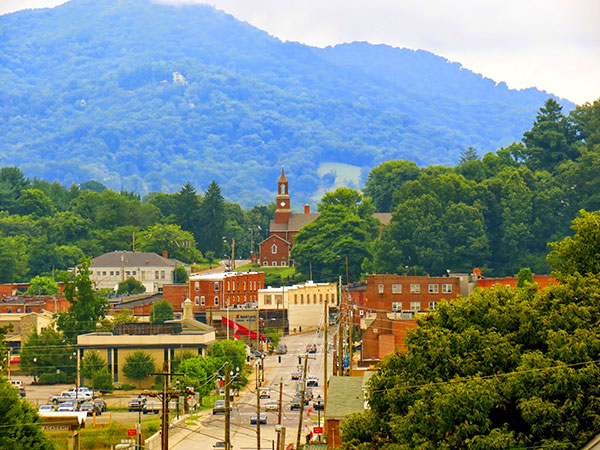 ---
Canton North Carolina
"Where the Mountains Kiss the Sky"
---
---

Town of Canton NC
Canton NC located about 20 minutes west of Asheville is nestled in the heart of the Southern Appalachian Mountains on the banks of the Pigeon River. Canton is a historic mill town with tree-lined streets, low cost of living and a small downtown; while also known for its culture and history.
Canton is also the home of Blue Ridge Papers, Haywood County's largest industry, now Evergreen Packaging. The mill produces paper and allied products and has made great strides in reducing the amount of air and water pollution spewed with devastating effects into the environment. Evergreen Packaging is responsible for the production of Starbucks cups and other popular paper products used around the world.
Canton also has a large recreation program as part of its services to its citizens and guests. The Recreation Park has a large, modern swimming pool, playground, picnic tables, lighted tennis courts, and ball fields adjacent to the park.
Canton's newest claim to fame is Cold Mountain which lies in the Bethel Community near Canton. Popularized by the novel which was turned into a major motion picture, Cold Mountain was written by Charles Frazier, who was born in Haywood County and spent weekends and summers in the area. While here, he explored the mountains and decided to immortalize Cold Mountain in his memorable novel.
---

History of Canton NC
The area was first settled in late 1780 and the first church was built in what was to become Canton; it was called the Locust Old Field Baptist Church.
Canton was formed in 1937, and is home to the landmark Colonial Theater and the historic Imperial Hotel complex. The town was named for Canton, OH, the source of the steel used in construction of the bridge over the Pigeon River.
---
Canton Labor Day Festival
Pickin' in the Park
Old Pressley Sapphire Mine
The Imperial
The Pigeon River
Moor Cove Waterfall
Cold Mountain
Colonial Theatre
---
---