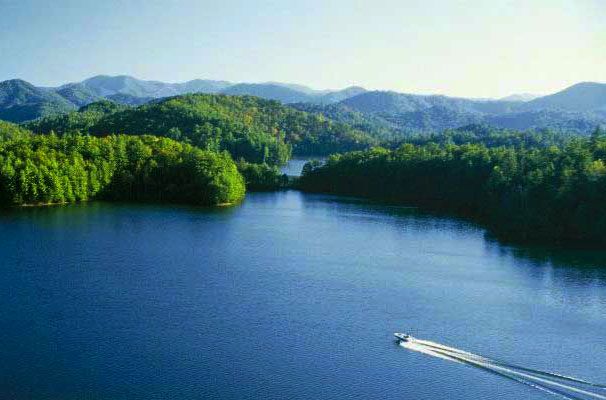 ---
Robbinsville North Carolina
"Town Amidst the Trees"
---
---

Town of Robbinsville NC
Located in the far reaches of Western North Carolina in the Great Smoky Mountains, Robbinsville is a perfect mountain destination. The area features some of the highest and most remote mountains east of the Mississippi. This small town is said to have traffic jams only twice a year-for homecoming and the Christmas Parade. Surrounding the town is the many trout streams that have earned a national reputation and popular retreat destination of Fontana Lake is just a short drive away. Of course there are many other outdoor activities nearby such as kayaking, horseback riding, hiking and white water rafting. Come visit the Snowbird Backcountry area which was known as a hiding place for many Cherokee Indians. If you're a motorcycle enthusiast, you will love "The Dragon" route along US 129 with its 318 curves that offers an energetic ride and breathtaking views along the way. You can also catch live music during the months of June, July and August at the Music On The Square events. Head on out and enjoy the Appalachian Mountains 'last frontier'.
---

History of Robbinsville, NC
Graham County was part of the Cherokee treaty lands and was not opened to settlement until President Jackson ordered the removal of the Indians in 1838. After the town was settled, a makeshift highway was built from Andrews to Fort Montgomery which is near Robbinsville. The road was used for soldiers in evacuating the Indians. Sometime between 1840-1843, Thomas Cooper and Colonel William H Thomas established a trading post. The post was established on Rhea Hill on the present day Robbinsville school site. The store was remodeled in later years and was operated by Thomas Cooper. It is believed to be the first store in the area. The store changed ownership and the first post office was established in 1843. The post office housed the King-Cooper Store with Wiley King as the first postmaster. The name was originally listed as Cheoah Valley, then changed to Fort Montgomery in 1849. Finally, in 1874 the name was finalized as Robbinsville.
---
Lake Santeetlah
Tail of the Dragon
Moonshiner 28
Cherohala Skyway
Fontana Dam & Lake
Appalachian Trail
Nantahala National Forest
Snowbird Backcountry
Joyce Kilmer Memorial Forest
Great Smoky Mountains National Park
Cherokee National Forest
---
---