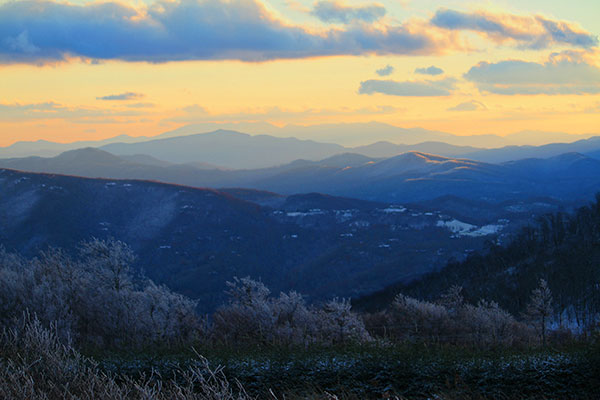 ---
Beech Mountain North Carolina
"Eastern America's Highest Town"
---
---

Town of Beech Mountain NC
Beech Mountain is the highest incorporated town east of the Mississippi at an elevation of 5,506 feet and is known for cool summer climates and great skiing and mountain biking at Beech Mountain Resort. Many Visitors flock to Beech Mountain in the winter for southern style skiing.
Enjoy incredible views from our cozy restaurants and over 700 lodging options, from quaint inns to private rental homes. Rent a home or condo with a Beech Mountain Club membership and enjoy gourmet dining, swimming, golf or tennis. Shop at a country store, hike a waterfall trail, view pristine wildlife, fish in a mountain lake, mountain bike in the Emerald Outback, or just breathe in the fresh air of Beech Mountain. Due to the cool climates many people have 2nd homes on Beech Mountain to cool off during the hot summers.
---

History of Beech Mountain NC
In 1961, a Dr. Brigham started the process of acquiring property on Beech Mountain. He approached the Robbins brothers, developers of Tweetsie Railroad theme park, to help with the building of a ski resort. The brothers were developing Hound Ears Golf and Country Club when they decided to take on Beech Mountain development. The daughter of Grover Robbins told me that her daddy did not like cold weather and was not interested in a ski area by itself, but wanted a year-round resort with activities like golf, tennis and swimming, in addition to winter sports. The Robbins brothers purchased additional property and formed the Carolina Caribbean Corporation to develop the assembled acreage of Beech Mountain.
As skiing in the south became popular the resort changed hands many times over the years. From the day Beech Mountain opened for skiing, changes in ski equipment, technique, fashion, snow making, grooming capabilities, and operating costs have occurred. Beech Mountain Resort has added other winter sport activities such as ice skating and snowboarding, but the greatest attraction has always been skiing.
Today Beech Mountain Resort has become not just a winter destination but a summer mountain biking resort. Many from far away come to Beech Mountain resort to trek down the ski slopes as well as the many miles of new trails in the Emerald Outback.
---

Highlights of Beech Mountain North Carolina
Beech Mountain Ski Resort
Buckeye Recreation Center
Beech Mountain Club
Autumn at Oz Festival
Kite Festival
46th Annual Hog Roast & Fireworks
Emerald Outback
Cool 5K
---
---