---
America's Favorite Drive through North Carolina & Virginia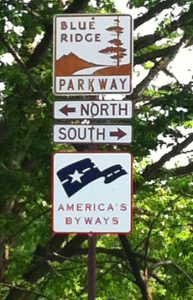 The speed limit is 45 miles per hour a little less in some places. The Blue Ridge Parkway was designed for leisurely motoring. Take your time and discover the subtlety as well as the grandeur of this special place.
You do not have to be at an overlook to stop and enjoy the scenery. Unless otherwise posted, parking is permitted along road shoulders. Choose a place where you can pull your car completely off the road so as not to endanger yourself or others. Be alert for wildlife. Deer and other animals may dart in front of you.
Extra vigilance is needed when driving in fog and rain. Slow down and turn on your headlights. A little caution will help assure that inclement weather only dampens picnics and temporarily impairs the scenic views.
Motorcyclists – should be especially alert. Approved helmets are required for operators and passengers. In North Carolina, the headlight must be on anytime a motorcycle is in motion.
If in an accident, try to prevent others from becoming involved by using reflective warning devices or flares, or by positioning someone beside the road to flag oncoming vehicles. Notify a Park Ranger at a nearby visitor center or campground or call (800) 727-5928.
The Parkway incorporates several recreation areas, some exceeding 6,000 acres. These parks within the Parkway have visitor centers, camp grounds, picnic areas, trails and, in many instances, concessionaire-operated lodges, restaurants, gas stations and other facilities.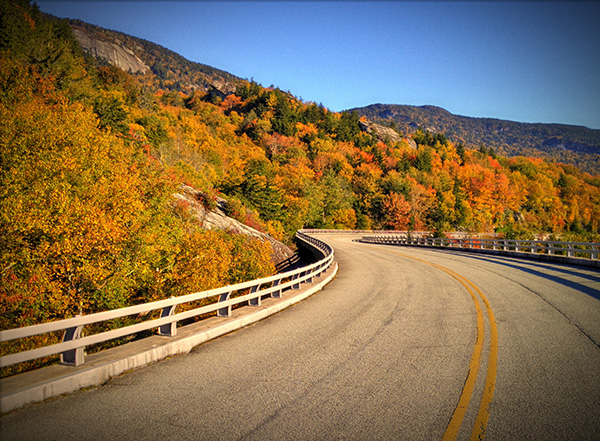 ---
Blue Ridge Parkway
---
Blue Ridge Parkway Information
---
Blue Ridge Parkway Lodging

---
For More Detailed Information Visit Our Sister Website:
---
For Blue Ridge Parkway Hiking Visit Our Sister Website:
---
Other National Parks:
Great Smoky Mountains National Park
---