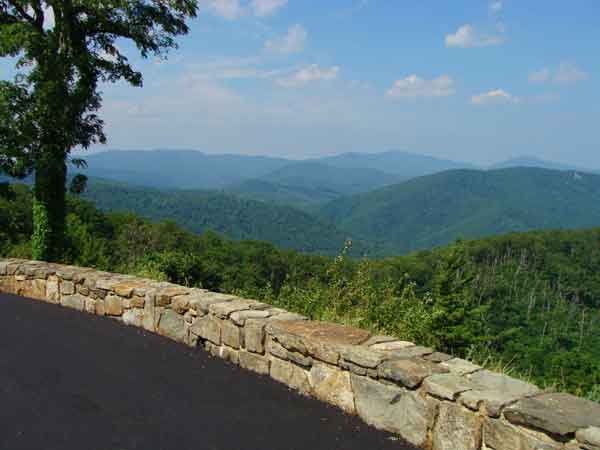 Shenandoah Valley extends southwestward from the vicinity of Harpers Ferry, West Virginia, on the Potomac River and lies between the Blue Ridge to the east and the Allegheny Mountains to the west. Drained by the Shenandoah River, it embraces nine counties Berkeley and Jefferson in West Virginia and Frederick, Clarke, Shenandoah, Warren, Rockingham, Page, and Augusta in Virginia. The valley, approximately 150 miles long and about 25 miles wide, is often considered to extend southward to the James River and thus to include Rockbridge county. Tourists are attracted by George Washington National Forest, Shenandoah National Park, the Natural Bridge near Lexington, and the area's many limestone caverns. Skyline Drive through the national park and the Blue Ridge Parkway to the south both running along the crest of the Blue Ridge parallel the valley on the east.
---
Shenandoah Valley and Skyline Drive Lodging
---
Shenandoah National Park & Skyline Drive Information
---
Counties in The Shenandoah Valley
---
Shenandoah Valley Virginia County Map
---
Shenandoah National Park
Shenandoah National Park lies astride a beautiful section of the Blue Ridge Mountains, which form the eastern rampart of the Appalachian Mountains between Pennsylvania and Georgia. The Shenandoah River flows through the valley to the west, with Massanutten Mountain, 40 miles long, standing between the river's north and south forks. The rolling Piedmont country lies to the east of the park. Skyline Drive, a 105-mile road that winds along the crest of the mountains through the length of the pare, provides vistas of the spectacular landscape to east and west.
The park holds more than 500 miles of trails, including 101 miles of the Appalachian Trail. Trails may follow a ridge crest, or they may lead to high places with panoramic views or to waterfalls in deep canyons. Many animals including deer, black bears, and wild turkeys, flourish among the rich growth of an oak-hickory forest. In season, bushes and wildflowers bloom along the Drive and trails and fill the open spaces. Apple trees, stone foundations, and cemeteries are reminders of the families who once called this place home. Shenandoah National Park has many stories waiting to be told, and a world of beauty that can renew and bring peace to the spirit.
History of the Shenandoah National Park
A little History – In 1926, U.S. Congress authorized Shenandoah National Park. Today 197,000 acres of eastern deciduous forest are a sanctuary for more than 100 varieties of trees, 200 bird species, and 1,100 flowering plants.
Lands were gradually purchased using private donations and through condemnation using state funds. On December 26, 1935, Virginia gave the deeds to the Federal Government, formally establishing the park. In 1936, Shenandoah was dedicated by President Franklin D. Roosevelt.
Visit Shenandoah and step back in time. Over 400 buildings and structures within the Skyline Drive Historic District are listed on the National Register of Historic Places as being nationally significant for their architecture and association with the history of the 1920s and 1930s.
Today, approximately 1.5 million visitors come to Shenandoah each year to enjoy this natural wonder. It is our hope that this park, created as a peaceful refuge for nearby urban populations, will continue to offer relaxation, recreation and inspiration for many generations to come.
Activities include unique Attractions, Arts & Carfts, Horeback Riding, Hiking, Biking, and Shopping.
---
Skyline Drive Mile Post Guide
0.0 JUNCTION US 340 & SKYLINE DRIVE. From Front Royal 35 mi. east to Middleburg. Washington D.C. is 63 miles; 18 ma. southeast to Washington, Va.; 21 mi. north to Winchester, Va.
4.6 DICKY RIDGE VISITOR CENTER. Water, comfort stations, picnic grounds, exhibits, slide programs, sales publications. Alt. 1,940.
21.0 HOGBACK OVERLOOK. Alt 3,385. View of 11 bends of Shenandoah River is visible on clear days.
24.1 ELKWALLOW. Picnic grounds, water, comfort station, fireplaces and picnic tables provided.
EDINBURG, VIRGINIA POP. 766 SHENANDOAH VINEYARDS Shenandoah Valley
31.5 PANORAMA JUNCTION US 211. 9 mi. west to Luray, 7 mi. east to Sperryville, 24 mi. to New Market; 26 mi. to Culpepper. Alt. 2,304.
SPERRYVILLE, VA. "In the foothills of the Blue Ridge Mountains". On US 211, 7 miles east of Skyline Drive.
36.7 PINNACLES. Picnic grounds, water, comfort station, fireplaces & picnic tables provided. Alt. 3,350.
41.8 ENTRANCE TO SKYLAND. The highest point on the Skyline Drive.
57.6 LEWIS MOUNTAIN. Picnic grounds, water, comfort station, tent & trailer campground (tables & fireplaces). Alt. 3,390.
65.7 SWIFT RUN GAP. Junction of US 33. 7 mi. west to Elkton; 24 mi. to Harrisonburg; 25 mi. south to Grottoes. Alt. 2,365.
79.8 LOFT MOUNTAIN. Picnic area, campgrounds with trailer sites, amphitheatre, summer hikes, Alt. 3,300.
105.4 ROCKFISH GAP. Junction Skyline Drive, Blue Ridge Parkway & US 250. 4 mi. west on US 250 to Waynesboro; 15 mi. to Staunton; 20 mi. east on US 250 to Charlottesville.
END OF THE SKYLINE DRIVE AND THE BEGINNING OF THE BLUE RIDGE PARKWAY
Click here to view a map of the Skyline Drive